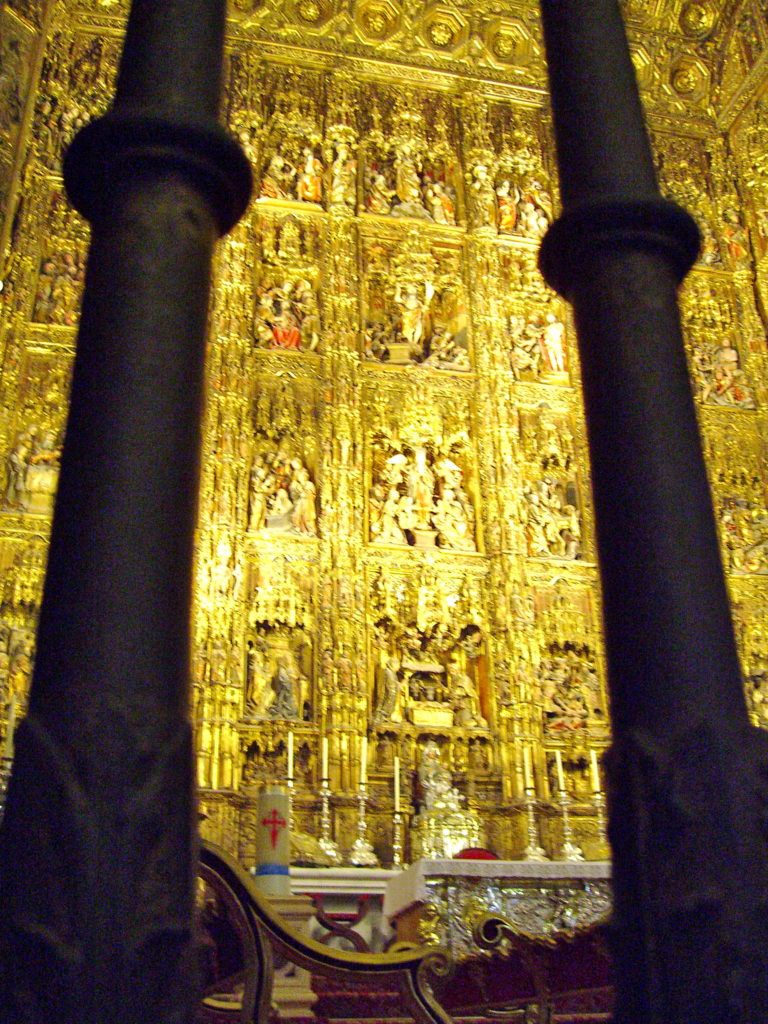 April 30 – Day 5 – It was 175 kilometers from our base at the Costa Del Sol near Marbella to Seville. The weather was perfect and the country side was beautiful, with rolling hills and green vistas. Behind us we could see the sea disappearing as we drove away. The beach here is beautiful.
Today we are off to see The Cathedral of Saint Mary of the see among other things. The Cathedral is the largest in the world and was once a mosque.
Many of the words in Spanish come from the Arabian language, as you may already know.
We were up bright and early waiting for our small bus that would come to pick us up. We joined those already on board for the trip to Seville and sat back to enjoy looking over the country side. Everyone was in vacation mode and all seemed well. The driver was a pleasant fellow, but with little to say. Perhaps he had other matters on his mind this morning.
The bell tower at the cathedral was once a minaret. It is called La Giralda now. Remember, this was Al-Andalusm, Muslim Spain in the distant past.
Christopher Columbus and his son are said to be buried here. There is some debate on that however, or so I remember reading somewhere.
The mosque was ordered to be built in 1172 by Abu Yaqub Yusuf at the southern end of the town. it supplanted another mosque built in 829 by Umar Ibn Ababbas. That mosque sat at the site of the present day collegiate church of Divino Salvador.
Shortly after the conquest of Seville by Ferdinand the lll, Yaqub Yusuf's mosque was converted into the cathedral.
The city is beautiful with its old buildings covered in tile roofs and with their white stucco walls. The walls reflect the sun's bright light back at us as we drive past them. Where are those sunglasses of mine. Some shutters on the windows are closed to keep the bright light from entering the houses and waking the napping grandparents and small children.