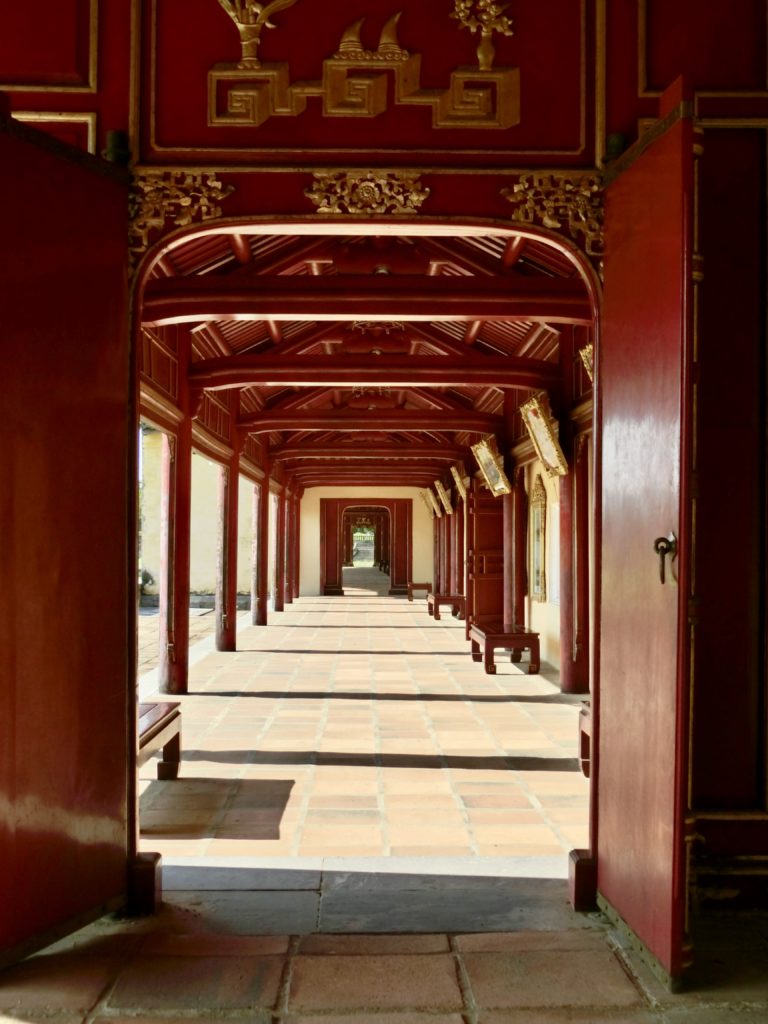 OCT.30 – Day 10 – The city of Hue is wonderful.
We had a nice breakfast of familiar and unfamiliar things this morning. The breeze was slight and coolish but pleasant.
Perhaps it is a harbinger of cool weather, but not likely. Luckily the heat and the humidity does not bother me as it does many others. I worked daily in small hot, humid bathrooms for decades and became accustomed to that atmosphere.
I am lucky that I am an adventurous eater and fear few food items, even if they are disguised in Vietnamese garb. My wife does not always approve.
The buildings are very beautiful and so different from home. The weather is perfect for a trip out to The Nguyen Empires capital. The buildings are very beautiful and reminiscent of china.
The gold and red paint has been repaired as well as much of the buildings, but much more needs to be done to bring it back to is former glory. What has been done is wonderful. There are photos of the royal family to be seen and wondered at. Their lives were so different in those days long ago. It's no wonder that they wore so many layers of clothing. There was little in the way of heating, I suspect.
We saw the vast area where the buildings sit and were amazed at the entire compound. What work, artistry, and skill was needed to create such a place.
The long gallery was beautiful in its red and gold splendor as it looked out over a wide area of landscape from both sides. One side could be closed off with folding doors while the other was open to nature.
The ridge of the green tile roofs were all lined with small and intricate cement statues and decorations running the buildings entire length. They were fascinating to see and try to understand. Surely it must all mean something to those in the know.
There was a beautiful gate covered in ceramic figures of plants and fanciful animals straight from the imagination of the clever artists.
In the country side lies the Royal Tombs of the Nguyen kings. Here we saw the mausoleums of Emperors Tu Duc and Khai Dinh.
We then went on a slow river ride on the Perfume River and then did a little window shopping in the market. The products on board are advertised by being stuck up on the tall pole.
There were several newly wed couples there for photos and my wife, being a woman, had to have some of her own of them. Their outfits were as impressive as they were beautiful.
We are off on the overnight train and have arrived in Huey. It is a city of 500,000 people. Much less than the 7 million in Hanoi, which we left last night. We went to the forbidden city of King Nguyen today and had lunch at a cafe that had once been an ancient house.
We then drove down to the river to a monastery and saw the buildings and a Bonsai Garden.
This monastery was the one where the monk who burned himself on the highway came from years ago. We then took a Dragon boat ride up the river for an hour or so to our bus.
We are now safely in our hotel. The communism here seems to be like that of China. It is a free market economy with winners and losers and becoming wealthy is possible.
The issues of politics are hard to understand just passing through a country. We will be here soon and spending three days in the stop.
Traffic is much less crowded, but still crazy.