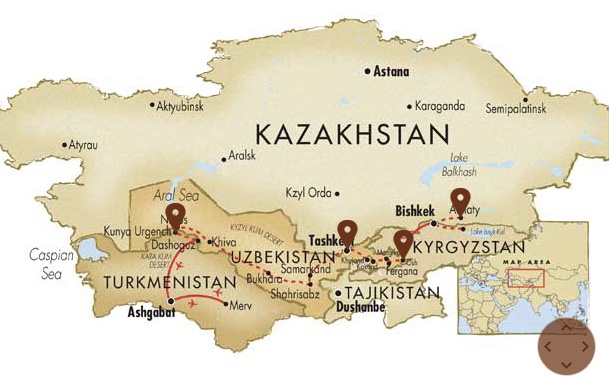 Day 8 – Sunday, April 28 – Khujand, Tashkent Uzbekistan
We are in Uzbekistan again. The geography is such that we cross into it again on our way to our next country. We seem to be going south and south west with large mountains to our left.
We are off to see the sights of Khuyand.
We first went to see the giant statue of Ismail Somoni. He has replaced Lenin in this park. He was a leader of the Samanid Dynasty. The highest mountain in Uzbekistan is named after him.
The Samanids was a Sunni Iranian Empire. It ruled from 819 to 999. It was a large empire encompassing much of Central Asia and well worth reading about.
Lenin has been hidden away in another park off of the main street.
Tashkent is one of the oldest cities in Uzbekistan.
It is the capital of the country.
According to rock paintings in the Chatkal Mountains, man has lived here since 2000 BC.
In the 2nd century this area was known as Ming Uryuk. It was captured by the Arabs in 751 and then by Genghis Kahn in the 13th century.
Tamerlane feasted here in the14th century and then the Shibanid Khans came in the 15th and 16th centuries. The Russians came in 1865.
Uzbekistan was not an autonomous country again until 1991.
Tahskent was mostly destroyed in the earthquake of 1966. The old city was lost and a new city was built. It now has many wide boulevards and lots of greenery. Pansies seem to be everywhere. The many trees make it a pleasant city to visit.
We went to Tahkents old town and saw the Kaffai-Shashi Mausolieum. It is the tomb of one of the first Imams of the Muslim world. The Muy Mubarak Madrassah is here also.
Uthman Ibn Affan was the son-in-law of Muhammad. The Uthman Koran, considered to be one of the oldest Korans by the Sunni Muslims is safely housed here in the Tillya Sheik Mosque. It was written on deer skin 19 years after Mohummed's death.
Shi'a Muslims believe the that Uthman's successor Ali, was the first true caliph and his version of the Koran is the only true version.
We visited the Tashkent Museum of applied arts. It is a large converted home of a diplomat. The walls a hung with many beautiful embroidered blankets. Some were done by hand and others done by machine.
This afternoon we visited the Tashkent Metro and went for a short ride. It is the first in Central Asia.
Each station is decorated in a different style. One station shows paintings of Russian Astronauts while another was done in a beautiful geometric pattern.
These stations are meant to be art galleries for the people.
We are staying at the Lotti City Hotel.