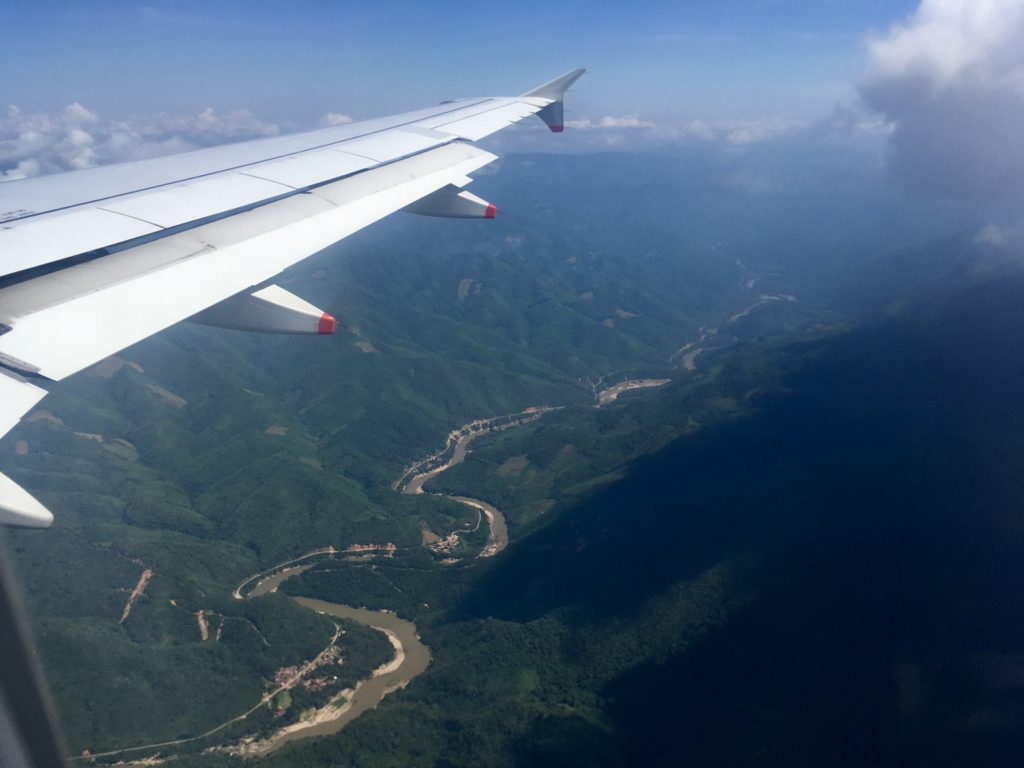 Thursday – Oct 13 – It begins!   We made it to the airport after a harrowing drive. Our shuttle driver has found a few new long cuts to LAX. It's always interesting to try and understand their reasoning, but these guys do this for a living so they must know best. They all seem to be from foreign countries and I guess they are just getting us used to what we will face once we reach our first destination, Laos. It is a mystery to us and we can't wait to discover its secrets.
It is early in the morning and we will fly to Seoul Korea first, then change planes and fly to Singapore and then on to Vientiane, Laos. We lost a day crossing the international dateline on the flight. We think it was 22 hours from LAX to Vientiane. That was the plan anyway. Our tickets didn't include the name of a domestic airport that we had to land in in Laos, however. We left the plane thinking we were in Vientiane and went through passport control and showed our visas. Everything went smoothly, except that we were in Luang Prabang, Laos. Our guide came to find us and put us back on the plane to Vientiane. Great, right? Not exactly.
When we reached Vientiane with our passports already stamped at Luang Prabang, there were some faces made from one passport control officer to another and on down the line. It was not crowded at all so the three men had a mini conference and tried to decide what to do. This seemed to be a new problem for them. They walked away to a room and closed the door. I think one of them called his wife to ask for help. A few minutes later when they returned, they waved us through with broad smiles and everyone had a new story to tell their wives and friends. So our trip in Laos has begun.