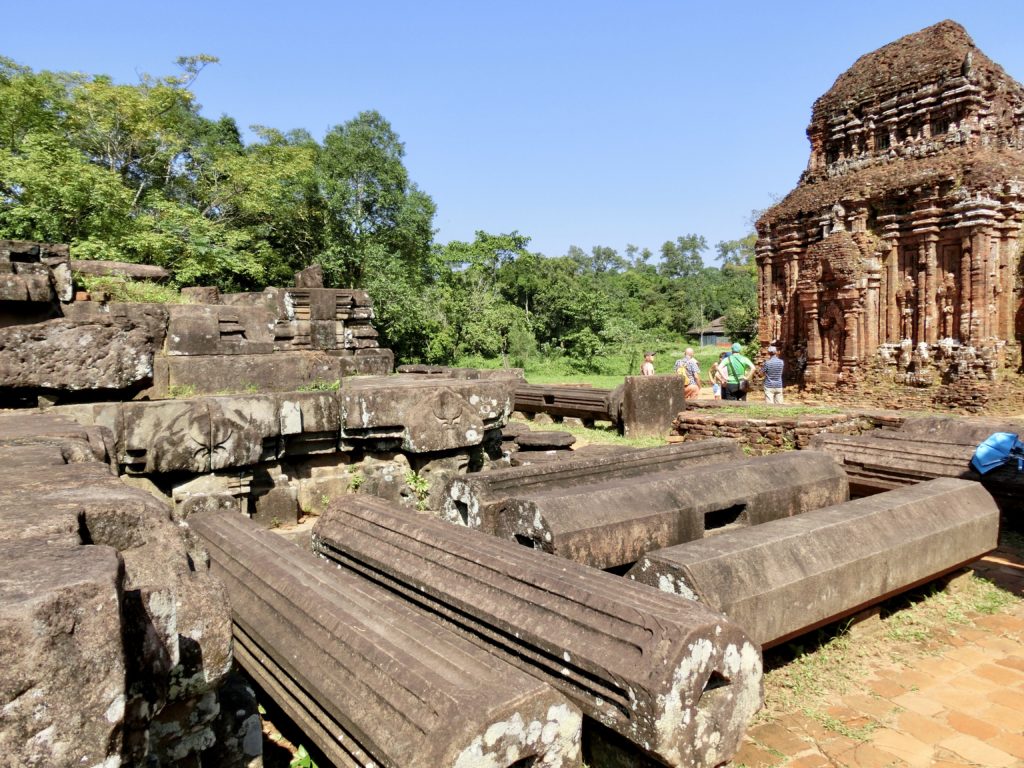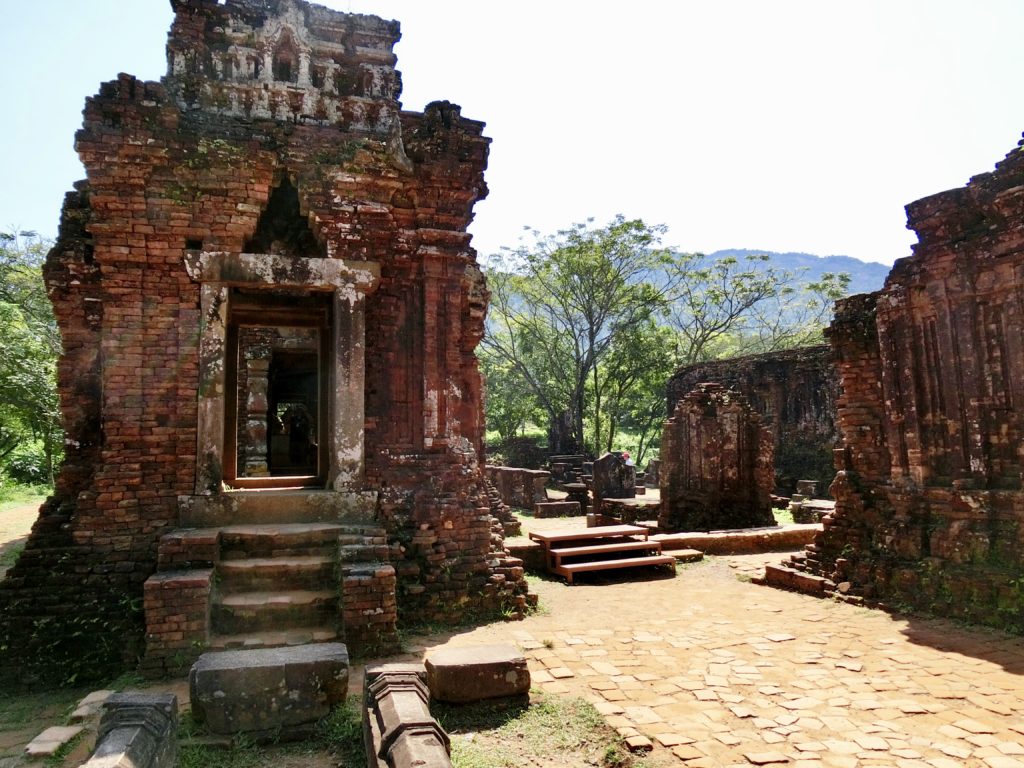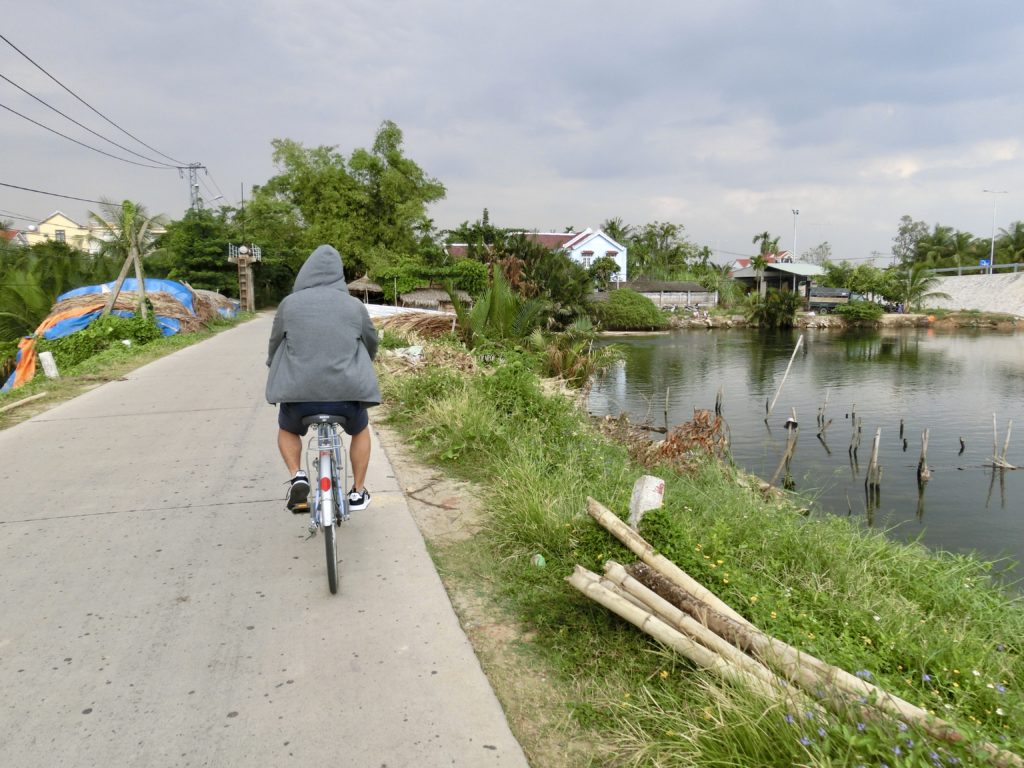 Nov.1 – Day 13 – Hoi An – This country had been broken in two for many centuries.
The Chum people were the inhabitants in the south centuries ago. They came from the subcontinent perhaps. The North wanted their land and they fought each other many times for hundreds of years until the Chum people were defeated. There are still people from that culture living today in the area. It was a matriarchal society as was Cambodia in the distant past.
We took a bike ride yesterday and stopped at a farm for lunch and to learn about farming techniques.
The farmers family has lived on this land for fifteen generations. He was about sixty. I had a large garden as a young man and understand the disappointment that comes with farming and all of it's possible disasters. There is nothing worse than to see all of your hard work become food for gophers.
He tried to show us all how to dig, plant and water our crops. They use seaweed as a fertilizer, by the way. He was an expert at handling his tool and the soil. It is always a pleasure to watch an expert at his craft.
On our bike ride we were introduced to a friendly water buffalo and some of our group rode it and had photos taken.
Riding a bike in the traffic can be a little intimidating, but go for it. We are all doomed to the same fate, so take a risk now and then and have some fun. Just don't go overboard. We rode on rough pathways and cement. The paths in the fields were raised above the flooded rice paddies. I almost lost it once, trying to be too careful.
Our hotel room is very large and the bathroom is huge. The wall between the bedroom and bathroom is made of clear glass. Someone had a sense of humor when they designed that feature. The hotels are great on this trip as is the food.
This is our stop for three days. We climbed the mountains in our van heading south next to the ocean to Da Nang. We drove past a few small villages or towns where most of the families produce an alcoholic rub for sore muscles. DO NOT DRINK.  We continued up the pass to where we saw the ancient gate that the merchants had to pass through and pay their taxes at. It stands to this day.
Da Nang is a modern city on the Pacific Ocean.Their are many hotels built along the wide sandy beaches. You can see the round local fishing boats that are still used here.
New golf courses wait here for golfers with time and money to spend. We ate lunch on the beach in a nice restaurant. Hoi An is our destination.
It is an old city with many shops and bars on both sides of s tidal river. The Pacific is just a few miles to the south, now.
We are staying at the Thanh Binh Riverside Hotel. It is very nice. It has surpassed all of my expectations. I was thinking of something very modest. This hotel is not that.
Everything seems very cheap here. I am having two business card holders made at a leather shop.
We walked through the town with our leader and he showed us the shops that make leather goods and suits overnight of good quality and at very good prices. We also toured a Chinese temple. It was very ornate and interesting.
The weather was perfect tonight as we walked the town, around seventy degrees and no chance of rain.
We have been very fortunate with the weather and the group on this trip. Everyone is in good shape and can walk. No complainers or trouble makers so far. However one of our fellow travelers had a migraine today and stayed back at the hotel.  She is much better tonight.
I highly recommend coming here for a visit. I see happy people and better times coming in the future, but who knows what the future holds for this country.
People vote for their neighborhood leader who then votes for the higher ups who then do the same and so on until they pick the Prime Minister, the President, and two more people, one being the party leader. The Communist Party leader runs the show of course. It could be loosely compared to the electoral college I suppose.
We see no evidence of the military, but surely they lurk out in the darkness somewhere. I could see us coming back here often if we still didn't have so much of the world left to see.
People talk freely among themselves about the issues but are careful talking in front of strangers.
It is Halloween and we handed out candy to our travel mates. It is 7:36 pm on the 31st.
To see our photos, go to my friends Facebook page at Ray-Andrea Matthews.
Check out my novels at this site under books. "Sailing Away," is a voyage on an 18th century merchant ship from London, through the Mediterranean, with many interesting stops. Then down to Cape Colony at the tip of Africa and then up the wast coast of Africa and back to London. It is the second book in a series. It includes some very interesting historical events in it.
The first book is "The Adventures of the Smith Family." It is an interesting story of a serf who gains his and his family's freedom by saving Prince George from bandits.
It is a long and interesting historical fiction tale of hard work and success. It is on Amazon for sale or free in the Kindle lending Library. I am currently rewriting it a little to make it even more interesting.