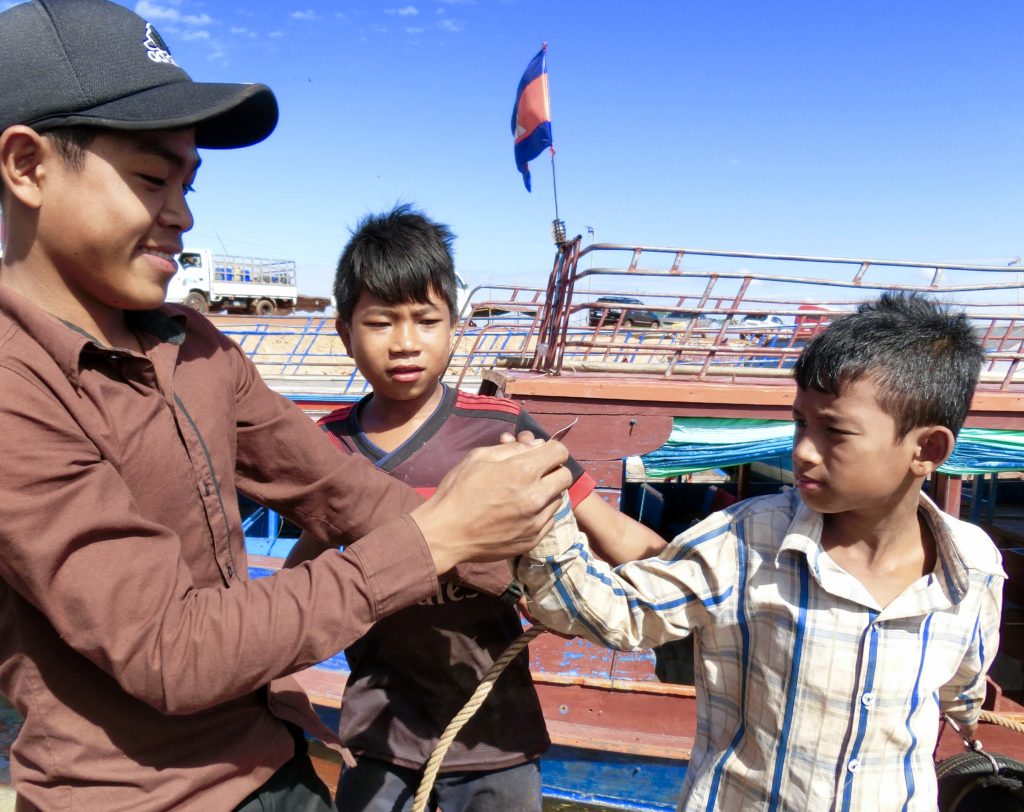 Nov.9 – Today we have driven out to a giant flood plain and Tonle Sap Lake where the village of Kompong Phluk is located. The road is high above the water on a dyke so that we may venture out here. It is a beautiful, blustery day. The sky is bright blue and not a cloud floats past us in the sky.
We are going off on the lake for a ride in a very long narrow power boat with a tin upper deck. There are dozens of these boats stacked tightly together below us as we pull up to the water's edge.
A man waits for us and waves us down to the boats. We follow our guide, climbing over many boat prows until we get to the one boat reserved for us.
It looks a little aged, but then so do I. "That could mean learned lessons and lessons learned," I remind myself.
We are soon all aboard and trying to leave in reverse. We are stuck between all of the other boats and the prop is out of the water some of the time. Hum, I begin to wonder as the motor revs rapidly. Is this a good idea?
Soon our leader is up and helping to push our boat out into the lake. We are moving now, thank goodness. Then I take a closer look at the crew.
Oh my God. The captain is twelve if he is a day, and a small twelve at that. Not a medium, but a small. His second mate is about eight and half the size of the captain. "What have I gotten my self into," I begin to wonder.
The two other boys are busy with ropes and such and leave another brother from the same mother at the wheel. He is five at most, and has his two front teeth as proof of his youth. He looks like he could spot a sandbar though. He has the look of a sailor about him. He is wiry and calm at the wheel. I feel more at ease now.
As we move out on to the lake, the wind picks up and the chop grows higher and rougher. I am a little sick now, but not from the river. I'm trying to remember a verse or two from the good book just in case, but my practice of not attending church has finally caught up with me. I had been warned more than once that this would happen. Not that I would drown at the hands of small children, but that God would put me where I belonged some day. Today is some day.
We motor up the channel and see houses of many different designs and colors on both sides of us. Some are neat and tidy and some look like nothing I have ever seen before. They are all on different heights of wooden poles in case the water rises. The water always rises in the rainy season.
The water is dark green as we pass men working on their nets and boats, preparing to go out to fish. I think I hear them speak as I pass by. "Those Jones boys have stolen their father's boat again and are off on another lark. God protect those foolish passengers."
By now everyone has gone up on top for the view of the fate that awaits us all. We are heading out into the open lake, past the mangrove forest and the waves are getting taller and I am getting sicker. I know we will have to turn out here to head back, but I don't want to see that happen. It does and we all survive somehow. I promise my maker that I will go to church when and if I arrive safely at my hotel.
I sit down on the deck with two of the brothers and draw some pictures for them. They are unimpressed. And then, I wonder, "Who is at the helm?" I look over the side and see the five year old back behind the wheel. 'Well, at least I know he has some experience. He's the one who backed us out of that traffic jam."
My wife is busy snapping pictures and everyone has a beer or soda in hand and are in fine spirits. "Can't they see who's running this thing?"
I look over at our guide and he smiles the smile of the confident as he finishes off his coke.
I think we are all going to a watery grave on the Mekong. The water is black now as we return and the sun hits the water from a different angle. I'm not surprised that the water is black. It seems somehow appropriate.
We are passed by other boats and the boys hold up their money that they made giving us all massages on our necks and shoulders. They are a clever bunch.
Eventually we made it back to where we had started from and I can't believe that I am still alive and I have forgotten the promise that I made to my maker. I am only human after all.
Somehow, diner tastes better tonight. Life is sweet.