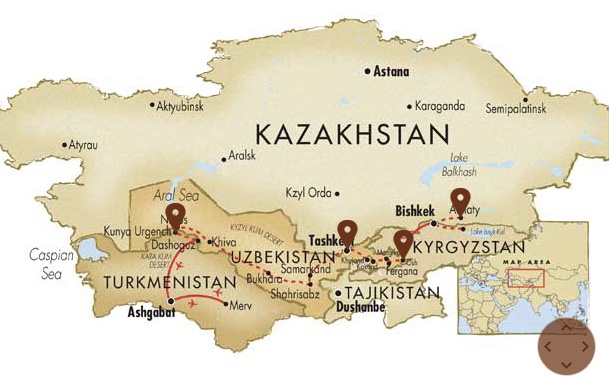 We had breakfast and met our leader this morning.
Our group is made up nine individuals ranging in age of perhaps sixty to seventy-nine.
They seem like a fit group and pleasant enough. Time will tell. When things go south, we can see what they are really made of. I can hardly wait.
Almaty is spread out in the foothills of the Zaili Ala-Too Mountains. They are a part of the Tien Shan Range.
Alamaty is the commercial center of Central Asia and in the richest of the five countries that we are visiting.
This city lies where the ancient city of Almatu was located centuries ago on the "Silk Road."
The city was destroyed by the Mongols in 1211 and nothing remains from those days. Sadly this is an all too familiar story in this geographical region.
Almaty means "the place with apples" and scientists think that this is where apples were first cultivated due to the many varieties here.
It is a prosperous town now due to its gas and oil reserves.
We also toured the Central State Museum. We could see the lives of the Bronze Age people unfolding in front of us and then follow the Russian Empire, the Communist Period and up to those living here today.
The Golden Man is here in his uniform with 4,000 pieces of gold attached. It is a red fabric suite covered in gold flakes or leaves.
We then went out to a falcon farm where eagles, falcons and owls are raised and trained to hunt for humans. It is a long standing art in this area. The Mongolians also hunt with eagles.
We had a fine lunch here and were entertained with traditional Kazakh music and dancing in a urt or gur.
After lunch we visited Panfilov Park and the very old Zenkov Cathederal. Panfilov Park was named for the 28 Kazach soldiers that followed General Panfilov to their deaths outside of Moscow during WWll. An eternal flame burns here to remind us of their sacrifice.
The war is still important here to those that remain behind. Many gave children to the war effort and thousands paid the ultimate price. They are not forgotten.
Zenkov Cathedral is a wooden Orthodox church built at the turn of the last century.
We visited the Museum of Musical Instruments here as well and saw many interesting musical instruments. Some were familiar and others not. They use two and four stringed instruments here, along with others. The Mongolians are famous for the three stringed Horse head fiddle.
The Dombra is the two stringed Kazakh instrument that is seen everywhere here and throughout Central Asia.
We are still at the Dostyk Hotel.