Our son was very excited to be able to join us on this trip to the orient. He was fifteen at the time. Our flight started at L.A.X and flew directly to Hong Kong. We then fly on to Bangkok. The flight was over nineteen hours. It was a great adventure for all three of us.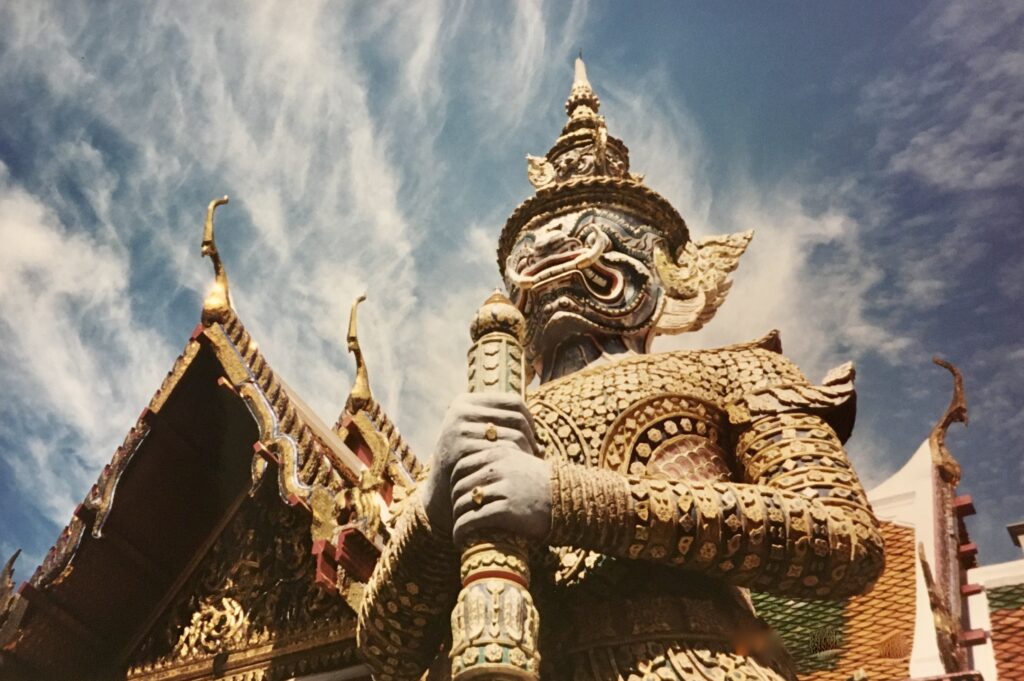 When we came to Bangkok the first time, the double decker freeway wasn't finished yet. The tour guides would stay in town rather than drive the few miles home to be with their family. It would take for ever. The ceramic tiles of all the temples were as clean as possible and glimmered in the sun from the recent rain. Monks in their red robes walked the streets with their empty bowls for looking for alms.
This picture below is of some of the Thai Dancers in Bangkok.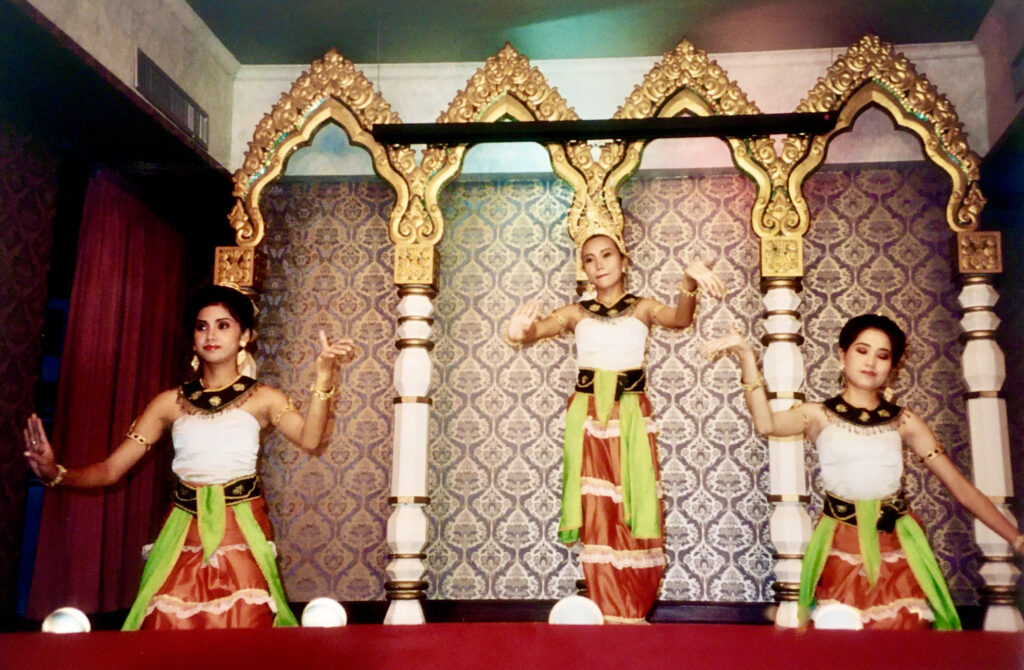 The young girls who decide to become dancers have their fingers bent back and stretched everyday for years so that their hands can make these delicate gestures for us to enjoy. Many of the dancers had outfits much more elaborate than even these. We had a wonderful dinner here and watched the show. the hats often resemble the shape of the temples and are covered gold.
There are 17 floating markets in Bangkok. Khiong Lat Mayom Market is a floatng market in the Tailing Chan District. Obviously it is very different from anything seen in North America and is quite a site for a tourist to digest. You can buy just about anything here. As in most Asian countries that are densely populated, a little cooperation can make things run much smoother .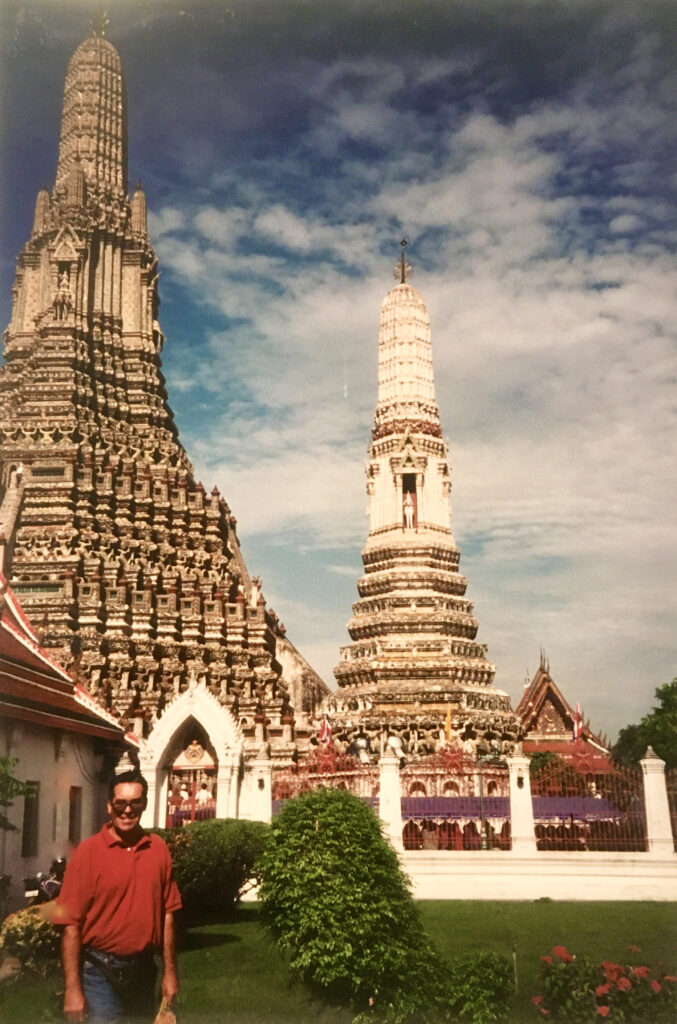 This is the Temple of Dawn in Bangkok or Wat Arun Ratchawararam. This is a landmark on the west side of Chao Phraya River. It is known locally as Wat Chaeng. It is very different from many other of the landmarks in Bangkok. It is over 70 meters tall and covered in tiny pieces of glass of many different colors and porcelain placed in intricate patterns.
This is the view of Thailand from the Thai Mae Nam Chao Phraya. Krung Thep is on the east bank and Thon Buri is on the west. There are several bridges that connect the two areas.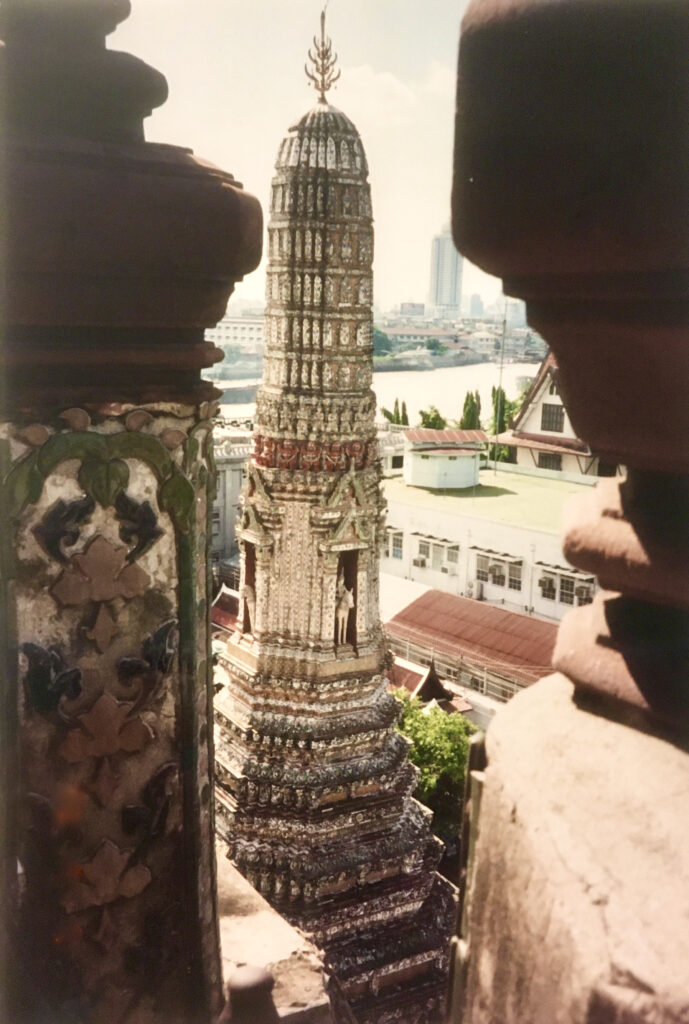 This is another view of the Temple of Dawn from another building. Notice the pieces of ceramic that creates a design at the left side of the window. Also see the horse in the alcove of the Temple of Dawn in front of you. The river and the modern city is just off in the distance.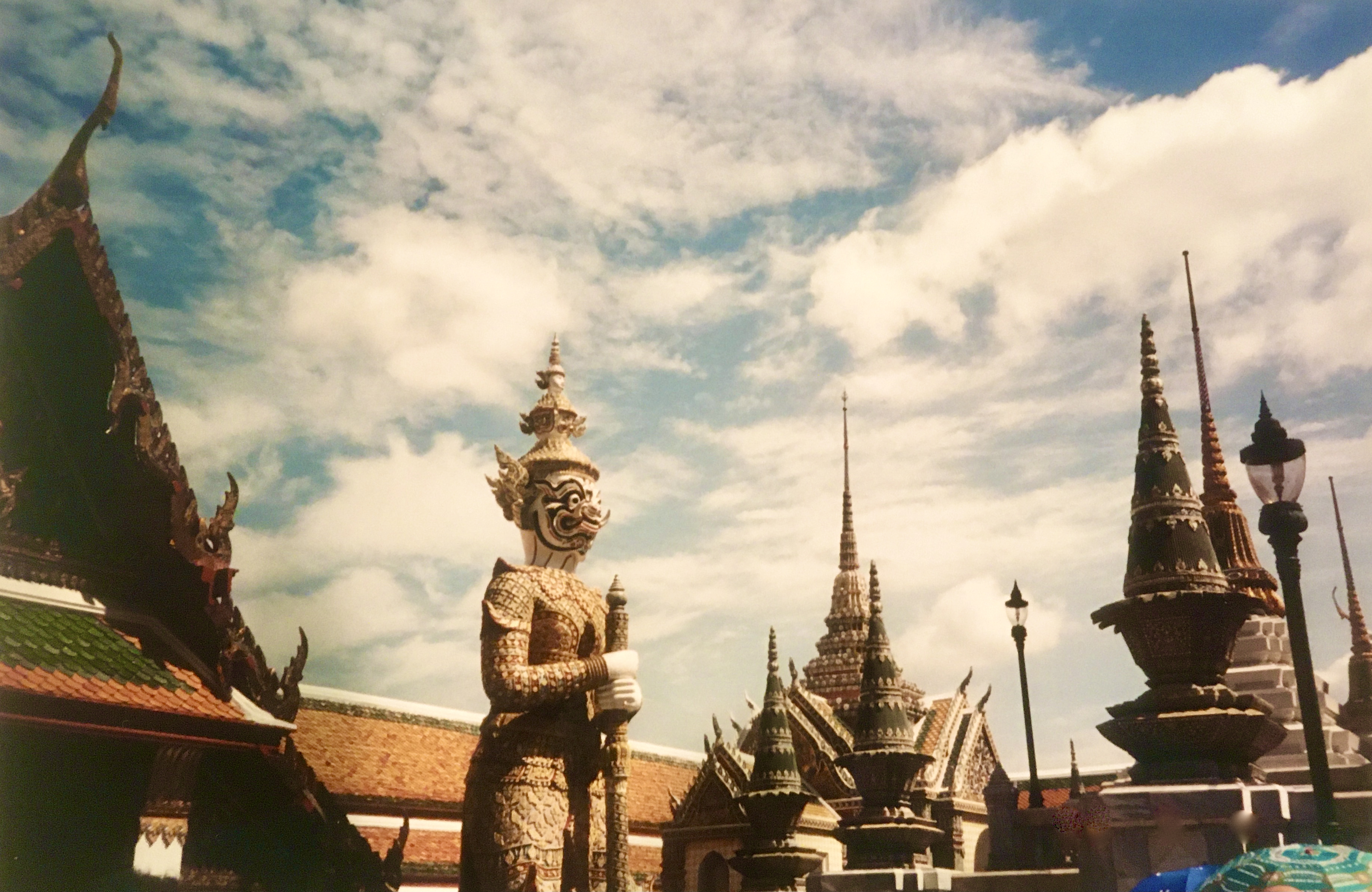 Please take a good long look at this picture. It sums up Bangkok for me. The wide blue sky, the delicate temple spires and the shining ceramic roof tiles with a magnificent guard watching over everything. This is the Bangkok that I want to remember.