We took the long drive through the rolling hills covered in trees to Arouca and the Monastery there.
It was one of the most prominent monasteries in the area.
There was a quaint carnival setting up in the parking lot as we arrived in our large van. It looked exactly as the ones here do. Men in their "T' shirts and dusty Levies worked under the warm sun. Who knows where they came from or how long they will be away from home.
We walked to the monastery along a tree lined fence and saw the cemetery lying outside of it.
The entry was large and cold. No family warmth or comforts here. This room has a large window facing the outside protected by the rain by a large overhanging eve. Family sometimes came to visit their daughter's here when they had gotten into trouble. There is no escape from this place with the large bars on the giant windows.
Some parents or fathers paid large donations to the church to take their daughters off of their hands when necessary to avoid scandal and embarrassment. Some young girls lived out their entire lives her with no visitors at all. There is a very large opening fitted with bars in the entry from which one might visit with family or friends who might come to visit.
These young women came with their servants who cooked and cared for them. But they were prisoners in the end. They read the bible and stayed put inside until their deaths.
There is a large cylinder with the side cut out that could turn. The visiting family could put gifts inside and have them pass into the monastery in that way.
It was large enough to hold new born babies that arrived inside, as well. The babies were sometimes put into this contraption. A family needing another hand in the future might be forewarned and come to take them away.
One of these young women was the widow of the king of Portugal. She came here when her husband died as she could not remarry.
When she died, she was buried in an airtight, granite coffin in the grounds near by. When she was disinterred for some reason three hundred years later, she was perfectly preserved.
She is now in the church and forever reclining in a small glass box which looks like a small carriage without wheels with a glass side to view her from.
She was mummified by nature over many long years. She has had wax applied to her face and hands and looks to be very well preserved and intact. She has been made a saint due to her perfectly preserved condition. I
t is amazing how small people were just a hundred years ago. she looked almost like a doll.
The nuns who lived never left the convent and were buried there when they died. There are rumors that some did indeed get out for a night on the town now and then.
The church attached to the monastery is typical with gold leaf covering all of the fine wood carvings and beautiful mosaics on a few walls. The ceiling of rough hewn timbers is painted as well. There are many small family chapels inside that are richly decorated. The pipe organ is large and imposing with pipes reaching up to the ceiling.
One room was done completely in blue and white tile which was painted to create natural panoramic vistas for the women to enjoy while trapped inside and reading bibles.
One area on the interesting tile covered walls shows the backside of a fisherman or hunter peaking out from his undone trousers for some reason. I have no idea what that was about.
We walked across the street when our tour was finished and stopped at a bakery for some samples. The nuns made these same treats for hundreds of years in the monastery. The sweet treats were very tasty.
They came in many forms. One was in a sausage casing and looked like meat sausage, but it had a sweet filling. A complete surprise. There were many different shapes and fillings. The short time spent made for a welcome rest and snack.
We then drove out to The Arouca Pedestrian Bridge and Geo Park.
During WW ll the village of Arouca delivered "wolframite" to the Allies and the Germans. Wolframite is an iron, manganese, and tungstate mineral with the chemical formula WO4. This material is a rich source of tungsten ore minerals.
Portugal was neutral during the war but had a strong historical connection to England hundreds of ears old.
We walked across the 1700 foot long narrow steel pedestrian bridge which is listed in The Guinness Book of World Records.
We took the long walk over the bridge with a small stream running through the tall trees beneath us. It is a very stable bridge, but some decided not to come on this outing. Our group of fourteen made it across easily with a slight breeze crossing over it. We completed our walk without mishap.
The bridge swayed just a bit as we walked over it's slightly arched platform.
There are minders here to prevent overloading or misbehaving by its guests. The view was beautiful.
Cables are fixed to the bridge from the super structure which passed above us and the bridge is very stable and certainly safe. It looks almost brand new.
There are two giant concrete towers, one at each end, that anchor the bridge into the mountains and hold it fast. It isn't going any where soon.
The bridge was built to bring in tourists and to create jobs. It has worked at doing this and hundreds of hostels, restaurants and or hotels have been built in the area for the tourists and provide jobs for the locals. Not every country has the same opportunities for work for its population and this is a sound measure for getting people working.
The river below us was just a trickle. It is much lower now than normal due to the drought here in Portugal. We could see the white line above the stream where the water had passed the rocky banks last year.
After a fine day and a beautiful drive, we will all gather together for dinner near the hotel.
Sadly, some folks will leave our group tomorrow while others will stay to continue this wonderful trip through Portugal.
Spain and Portugal are two of the most beautiful places I have ever been to. The views can change quickly from vast open yellow horizons which can quickly turn into narrow green valleys surrounded by steep mountains covered in forests which then might turn into fields of sunflowers ready to harvest.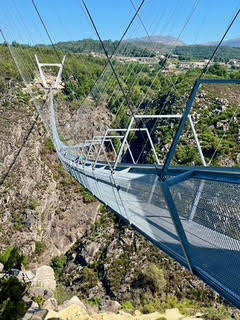 The longest pedestrian bridge in the world