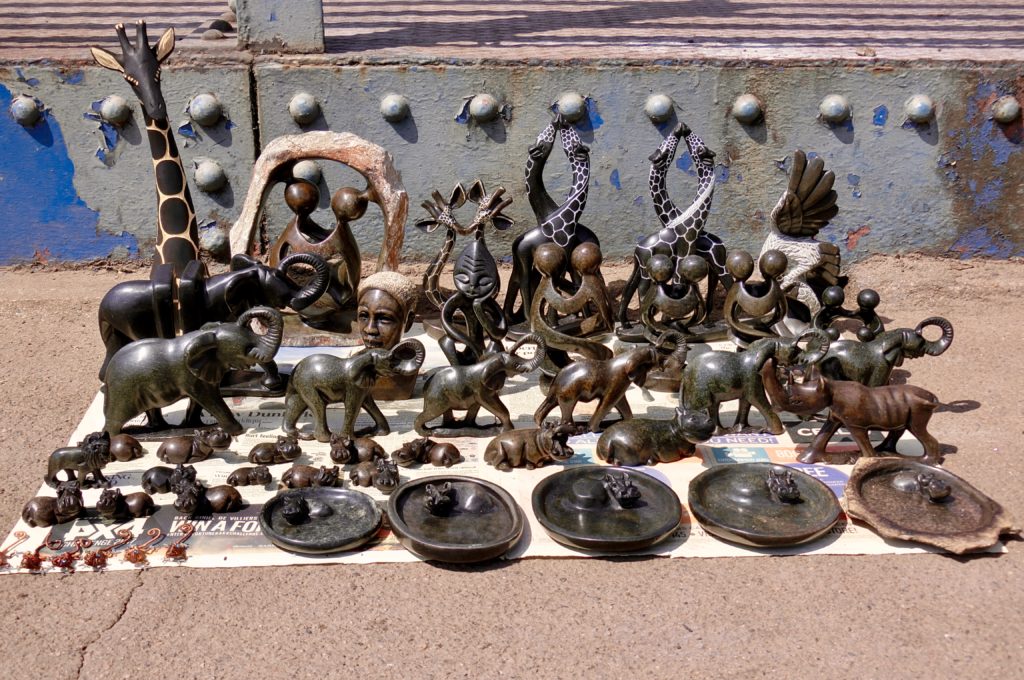 Oct, 8, 2017 – We leave Victoria falls behind us tomorrow and head for Botswana. We will be staying on an island out in the bush again.
We will be learning about another culture. Perhaps no electricity or internet once more.
We had thunder and lightening today, but no real rain to speak of.
There are many talented painters and carvers of stone and wood here in Victoria. The markets are full of beautiful paintings.
Sadly, the tourists can only buy and carry so much with them on their journeys. I suppose many items are shipped home. I hope so, for the artists sake.
The rainy season starts in November and they need all of the rain that they will receive.
Subsistence farming is the norm here. Most families raise just enough food to survive on with a little cash left over to buy cooking oil and others needed items.
The land is full of rocks and giant boulders. It is a very tough life here at best.
Eleven more days to go. We will have four days in Cape Town.
We have visited several schools on our African adventure.
The company that we travel with gives some of their proceeds to these schools to help maintain them. The children look well cared for and are very friendly and polite.
We just hope that their futures are as bright as they are.
There are rumblings here about the coming election and political unrest.
The people who supported Mugabe wanted his wife to run for president and take over for him. There are obviously different factions involved in this election, just like back home in the U.S.
There was no cooking oil in the markets as we left town. Things were spinning out of control as we left.
We were told not to ask questions about the politics until we left the country. There are said to be many spies about and it is unwise to speak publicly about these issues.
There are people selling local currency on the streets for dollars as their currency has become inflated and virtually useless.
The currency actually has an expiration date printed on it. It takes millions in the local currency to buy anything and the notes are numbered accordingly.
There are monthly restraints on how much money can be withdrawn from savings accounts at this time each month. The amount is equivalent to $20.00 U.S.  Many people keep their money in banks in neighboring countries.
Come to my Facebook page and Instagram at R.C. Hand to see my six minute videos of my true stories being told on stage from The Long Beach Searches for The Greatest Storytelling event.
You can learn about my novels on this site at books, or go to Amazon and look up "The Adventures of the Smith Family"  and many other novels written by R. C. Hand.
As always, thanks for coming to visit.