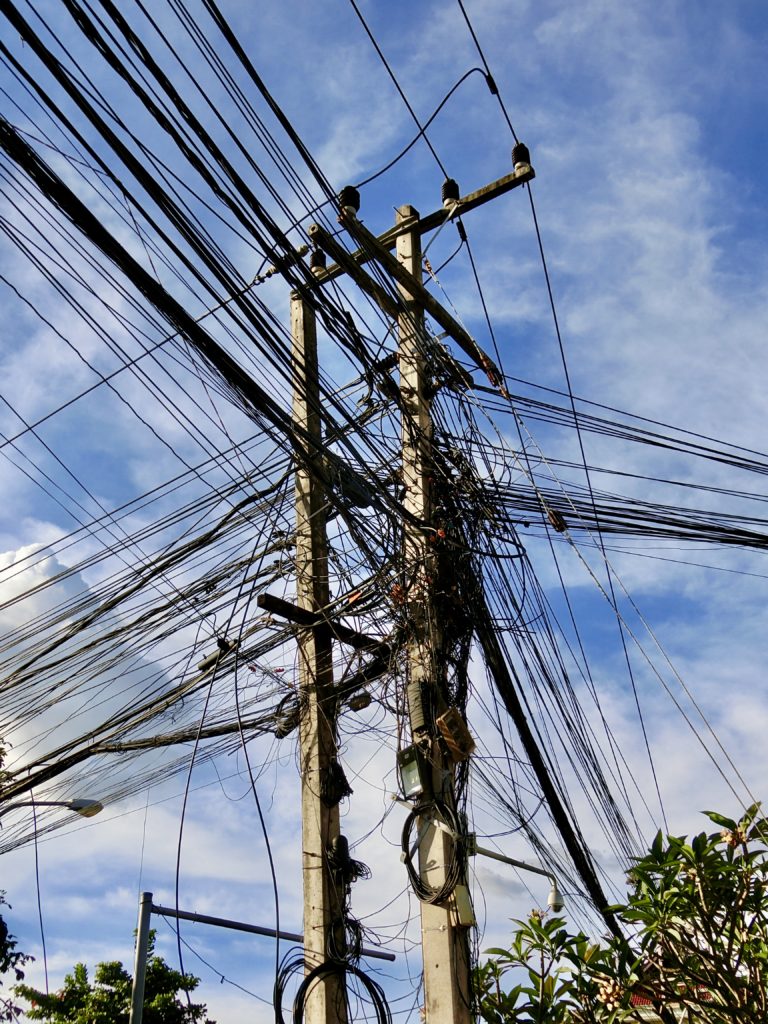 Saturday, October 18, Day 1 -After 20 hours of flying, we are in Vientaine, Laos. The city looks like most third world countries, with hundreds of power and phone lines running amok above us as we walked the city.
We lost a day so it was Saturday when we landed.
I met an interesting fellow on the plane coming over from LAX. He was named Tom. He was off to see his girl friend in Manilla. He left us in Singapore, missing an ear. I talked it off, but it was a clean cut and bled little. I carry bandaids for just such occasions. He was an IT guy of course. Everyone is an IT person these days, or so it seems to me.
My wife and I walked to a temple across from our hotel that we had seen coming into town and watched a young man working on painting some decorations on a column.
We crossed the busy eight lane road with some difficulty. The invention of the crosswalk is rare here. Life for a pedestrian must be difficult. Heaven only knows what it is like during the week.
The block buildings look a bit rough and unsafe during construction but are beautiful when completed. The scaffolding however leaves a lot to be desired. It looks very unsafe. But this is a different world here and these workmen work with what they are used to. They use twigs and branches to build much of the scaffolding. Good luck guys, is all I can say. However, I have worked on some sketchy stuff my self and understand the need to work under difficult conditions.
My wife took many pictures of the children as usual, while the night market was being set up.
The average income her is $150.00 U.S. per month. But remember that the cost to live here is much less and so you must be careful when comparing numbers.
Halloween seems quite popular. I'm surprised.
The roads here are a little rugged, but we have come at a good time. The country is still largely undeveloped and we can still enjoy the natural aspects of it and the beauty around us.
Click the "book" box and read a free chapter in one of my books on this site. They are all available on Amazon. "Atlanta" by R. C. hand is a disturbing detective story with some odd characters. "Grandpa Ernie's Secrets," is a spy thriller with some twists that takes place in Italy. It's a fun ride. "Kazu, son of Oshida Kamasaki" is an Asian folk tale about a feudal kingdom, kidnapping and war. It is a romance story as well.
You can google me, R. C. Hand, Author.