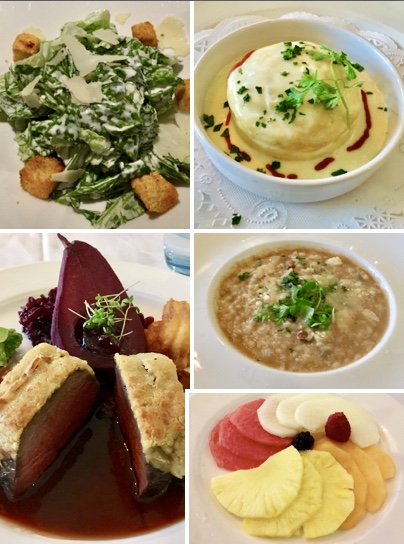 I am pleased by the wonderful food available on the ship, The Viking Sea.
Fish is my first choice and I will do my best to sample all of those dishes. I usually loose around seven pounds on a cruise.
A gong has sounded. It is the captain. What does this mean?
"We are leaving immediately due to Hurricane Dorian." He has been our constant companion from the beginning of this trip. Those clouds that we flew through a few hours ago was the outer rim of the storm.
We will sadly, not see Bergen on this trip to Norway. We have been here to Norway before but we will have to return another time to view Bergen.
The captain continued, "Our itinerary has been changed significantly due to the powerful nature of this storm Dorian." Oh no! We will miss the Shetland Islands and the Farrow Islands. On, not that! We wanted to see the ponies.
"We will spend more time in the waters around Iceland and cross over the Arctic Circle. We will seek shelter up in the north above Iceland and make some extra stops in Iceland. Perhaps we will see icebergs floating by." Oh, that sounds interesting. I have seen ponies before," I thought. My wife was not as pleased as I with this information.
"We will be farther north and perhaps have a better chance to see the "Northern Lights'" he continued. My wife's face brightened a little. We soon arranged for a few different excursions and settled in for our new, different, maybe even more exciting adventure.
Hopefully we will be safe from the perils of this storm, but it is a reminder to me about the difficulties that sailors often face.
I am just a traveler, a tourist, and my fate is in the hands of the weather and the captain and the crew of this small vessel as they deal with the storm.
My wife as always is taking very good care of me and taking all of the photos of our trip. Oh, it's Friday the 13th. Great!
If you like sailing stories, perhaps my novel, "Sailing Away," might be of some interest. It takes place in England during the American revolution and the reign of King George the Third.
It is the second book of a possible three book saga. The first book is called "The Adventures of the Smith Family." They are available on Amazon in paperback, I phone, or free in the Kindle Lending library.
All my novels are on Amazon and free in the Kindle Lending Library.
Read first chapters of all my novels.
I am now on Facebook at R.C. Hand.