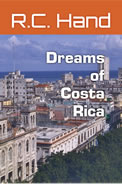 This story is partially inspired by my uncle who left for Costa Rica at the same time as John, the main character in my book, Dreams of Costa Rica. I only met my uncle once when I was about ten years old. He arrived from Costa Rica with cuts and bruises on his face and hands.
He had been unlucky enough to come upon some rustlers on his ranch and got a bad beating from them as did his foreman.
He vowed to me that they would pay a heavy price for their bad behavior. I never heard about what happened when he arrived back home from my mother, and perhaps it's just as well. He left a giant snake skin with us that was placed high over the bar in our restaurant. It made quite an impression on me.
Most everyone wore sidearms in Costa Rica back in those days if they lived out in the country, and I don't doubt that they were used more than just for decoration. My grandfather went to see his name sake a few times over the years there. Sadly, he died on his last trip there and is buried in San Jose.
I know that I have many cousins in Costa Rica that I have never met, and that is a little sad. There family name would be Hand. My uncle owned a hotel in San Jose and a Ranch in Puntarenas. I'm sure he was well known for his drinking and carousing.
However, I have been there just for a day and have seen its beauty and met some of the people who call Costa Rica their home. We were going through the Panama Canal at the time and made a short stop in Costa Rica. I would love to meet some of my relations down there, but I don't think it likely.
The passage of time has dimmed their memories of my family I suppose, and perhaps it is for the better. My uncle was a real character as you will see in Dreams of Costa Rica.
Look for my other books on Amazon. They are Sailing Away, the follow up to The Adventures of the Smith Family, Kazu, son of Oshida Kamasaki, Atlanta and Grandpa Ernie's Secrets. They are all different and interesting in their own way.
If you live near the city of Orange, California and need books, Call Anne at book Carnival. Her number is 714-538-3210. Tell her that R. C. Hand gave you her number.